Finding Low Cost Funeral Director Services in Chester & Delaware County PA with the Catholic Burial Society.
When an individual passes away, it can be a difficult and stressful time for those left behind. One of the most important decisions that must be made is how to handle their funeral service. Unfortunately, funerals are expensive and can leave loved ones overwhelmed by the cost. Fortunately, there are services available to help families in need. The Catholic Burial Society offers affordable funeral director services for families in Chester and Delaware County PA in all aspects of burial planning from start to finish to lower-income families and individuals who cannot afford traditional options including:
Funeral Pre Planning Services / Pre-Need Counseling
Cemetery Selection
Interment Plans
Medicaid Trusts
Bereavement Support / Grief Support Services
Referral Services
In addition to providing these standard services, the society also offers additional assistance such as organizing memorials or receptions after a service as well as grief counseling if needed. All of these services come free of charge and are provided by dedicated staff members who understand how difficult this time can be on a family. We are experienced in the art of dealing with a loss of a loved one and we want to make sure you're taken care of during this difficult time.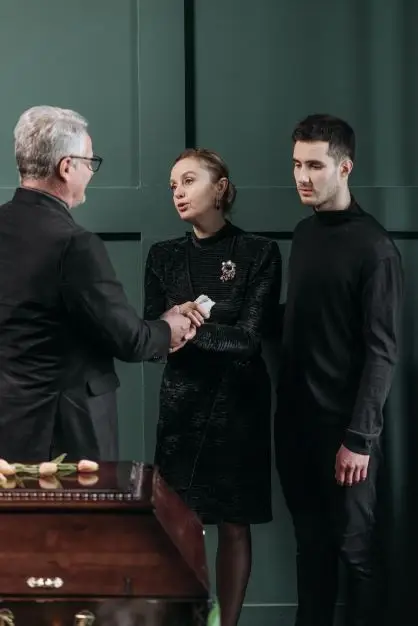 How Does the Catholic Burial Society Help?
The Catholic Burial Society strives to make funerals less burdensome on individuals or families who may not have the financial means necessary to pay for them out-of-pocket. They offer access to professional burial directors at no cost which helps ensure that every individual is given a dignified burial regardless of their income level or social standing. In addition, we provide counseling and support throughout the process which can help alleviate some of the emotional stress associated with saying goodbye to someone you love.
Losing someone we love is never easy, but with help from organizations like the Catholic Burial Society, you can rest assured that our loved ones will receive proper care during their final moments. Their commitment to providing affordable funeral director services ensures that everyone receives dignity during this difficult time while also providing much needed emotional support for survivors during their grieving process. For individuals or families in need of low cost funeral arrangements, contact us today for more information on how we can help you plan your loved one's final farewell with respect and compassion.
What do funeral directors do during the funeral?
Funeral directors play a vital role in ensuring that funeral services run smoothly. They are responsible for all aspects of the funeral, including coordinating with the family, arranging the funeral service, and assisting with the burial or cremation service. During the funeral, funeral directors are present to oversee the proceedings and ensure that everything runs according to plan. They coordinate with the funeral home staff, pallbearers, and clergy to ensure that the service is fulfilling for the family and memorable for the attendees. Funeral directors are always professional and respectful, acting with tact and sensitivity during what is undoubtedly an emotional time for everyone involved. Through their careful planning and attention to detail, funeral directors help provide the bereaved with a sense of closure as they pay tribute to their loved one.
What will a funeral director ask me?
When you meet with a funeral director near me, they will have many questions for you to help them arrange a meaningful and respectful funeral service for your loved one. These questions will range from basic information, such as the name, date of birth, and date of passing, to more specific details, such as the preferred location for the funeral service and burial. The funeral director may also ask about cultural and religious customs to ensure that the funeral is tailored to your family's traditions. Additionally, they may inquire about the type of casket service, urn, or burial vault that you would like to use. While it may be difficult to discuss these details during such a trying time, rest assured that a compassionate and professional funeral director will guide you through the process with ease and sensitivity.
What's the difference between a funeral director and a mortician?
When it comes to end-of-life services, the terms funeral director and mortician are often used interchangeably, but they actually refer to different roles within the funeral industry. A funeral director is responsible for managing and coordinating all aspects of a funeral, from the collection of the deceased's body to the final disposition of remains. They help families make arrangements and provide emotional support during their time of grief, also known as funeral celebrant services. In contrast, a mortician, also known as an embalmer, prepares the body for viewing and burial or cremation. They may also conduct autopsies in some cases. Both roles require compassion, attention to detail, and a commitment to honoring the deceased's wishes.
What is a typical day for a funeral director?
As a funeral director in Media PA serving Chester & Delaware County, each day brings a unique combination of tasks and responsibilities. Mornings may begin with answering phone calls and emails from grieving families, providing information about services and prices, and scheduling consultations. Throughout the day, funeral directors meet with families to discuss arrangements, from selecting caskets and urns to picking out floral arrangements and arranging transportation. They may also coordinate with florists, musicians, and clergy members to ensure that everything runs smoothly during the funeral service. In addition to these duties, funeral directors may also oversee embalming and preparation of the deceased for viewing, as well as handle all necessary paperwork and legal documentation. While each day is different, funeral directors remain committed to providing compassionate support and guidance to families during one of life's most challenging moments.
Which cities do you offer your funeral director services to?